2019 Bridal Shower Trends You're Going to Love
It's COLD in most of the country—- really, super, unforgivingly cold. We thought it would be nice to think about lovely Bridal Showers, complete with warm weather photos of laughing women in t shirts and obviously warm breezes.  2019 bridal shower trends, and yes, you're going to love them!  What's not to love??? Thanks to the Knot for such great ideas!
Please share with us YOUR plans for your bridal shower, we're all ears!
These fresh takes on the classic shower are in high demand.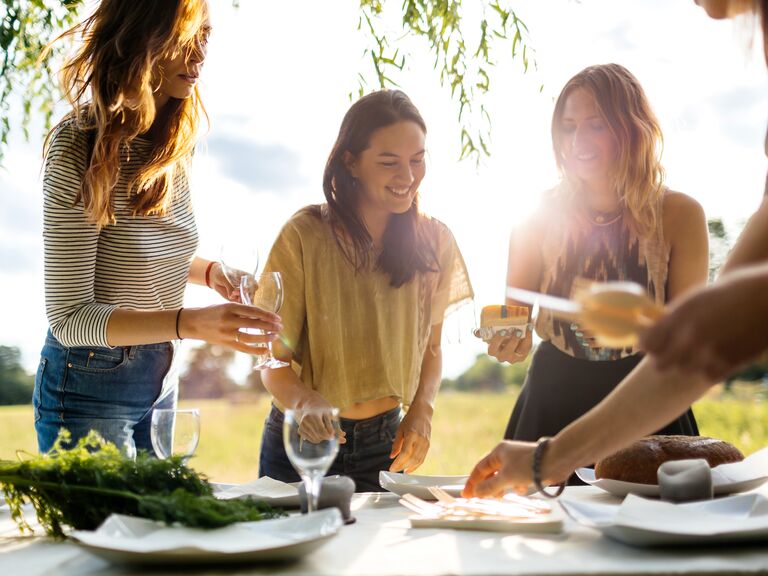 ISTOCK
"It's hard to go wrong with a party full of cake, cocktails, your favorite people and wedding presents, so it makes perfect sense that prewedding showers are as popular as ever. That said, most showers these days aren't your typical bash. To-be-weds can't help but shake things up for their weddings, and the shower is no exception.
Looking for a fresh way to celebrate with a shower? Below are the biggest bridal shower trends we're predicting for 2019. We bet you'll plan, attend or even be the guest of honor at a similar-looking party in the near future (or maybe you already have!)
Couple Showers
Better together, right? Tons of couples are bucking the traditional no-boys-allowed rule and opting for a coed shower that includes both partners and their closest friends and family. It's basically like an extended engagement party with gifts (*smiles slyly*). Don't get us wrong, couples showers aren't exactly a new thing, but they're gaining popularity by the minute, and we love it.
Groom Showers
If the groom- or grooms-to-be want the shower experience, they should have one. The idea of a "bro-dal" shower—a bridal shower for "bros"—started as more of a viral sensation than a real thing a few years ago, but there's no better time than 2019 (and beyond) for grooms to embrace the anything-goes mentality and enjoy their own shower.
Hands-On Showers
It seems like every shower now centers on some sort of unique activity—and we're not mad about it. We're not just talking about engagement ring cookie decorating either (although that's still a favorite). Expect to see more hands-on showers (think: hiking, wine tasting, cocktail mixing, flower arranging or lingerie making) hit the scene.
Destination Showers
Get ready for extended shower weekends away at the beach, country, spa or vineyard. A destination bridal shower isn't for the faint of heart (it is another event-filled trip to plan and attend)—but it's definitely unforgettable. If this sounds like a trend you want to jump on, but you don't want to splurge on multiple destination events, do yourself a favor and pack the shower and bachelorette party into one amazing prewedding trip. You don't have to travel to Bora Bora, either. Invite your crew to a nearby city, maybe where several of your family members or wedding party already live, and celebrate your nuptials with a change of scenery.
Low-Key Showers
On the opposite end of the spectrum, there's a growing trend toward relaxed showers without all the traditional frills and fuss. Pared down parties that nix The Newlywed Game, tiered cupcakes and two hours of gift opening are definitely making a name for themselves. Plus, they offer chill or introverted to-be-weds the perfect twist on tradition. A jeans and T-shirt night at your favorite brewery or relaxed backyard barbeque work perfectly here. As for gifts, couples might request none at all or donations in lieu of presents, or choose to open everything later to keep it less about the stuff and more about the company."
****If you, a friend or family member is planning your wedding, WE'D LOVE to hear your story, chat about your I Do's and be part of your Wedding Day Team.
We want YOU to be a #BBPCOUPLE!
Please give us a call or pop us an email!
Oh, by the way………….. follow BBP on FACEBOOK and INSTAGRAM and even TWITTER.
Because we love us some social media!